Pikachu's house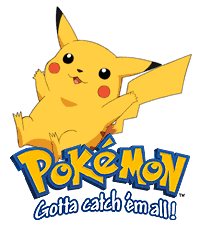 This site was created by Ewan Wagener.
This is Pikachu's house
Click above to go to King Pikachu's Castle
Click on your favourite Pokemon and e-mail me
If you want to adopt a Pokemon go to Pikachu's castle and go to pacz.
Please tell others about my site.
Please come to the site below because if it gets 1,000,000 people to go on it then it gives a tribute to Pikachu!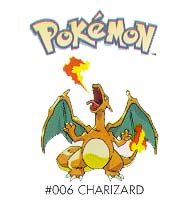 http://www.members.xoom.com/lcns
Please tell others about this and my site.
This Page will continue to get larger
Play pokemon battles with your adopted pokemon.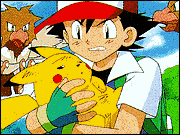 Click below to e-mail me for any comments or suggestions.
---
Join Below to get kicks with Hitmonlee's jokes!!
Please tell me of any links to pokemon sites
http://www.geocities.com/tokyo/island/5912
http://www.angelfire.com/me2/pacz
---
Info
Pikachu


Pikachu's power is: lightning
He is Ash's favourite pokemon
He does not live in a pokeball
He is the most popular and known pokemon
He evolves to Riachu
Squirtle

Squirtle's power is: Squirt gun and bubbles
Ash finds him very helpful
He lives in a pokeball
He is sort of well known and popular
He evolve's to wartortle and blastoise
Charmander
Charmanders power is: Fire
Most helpful
Does live in a pokeball
Evolves to Charmeleon then Charizard
Team Rocket

Power is: Pokemon
Always lose in t.v series
Definitly dont live in a pokeball
Ash and his friends
Power is: Pokemon
Always win in t.v series
Definitly dont live in a pokeball


---
profiles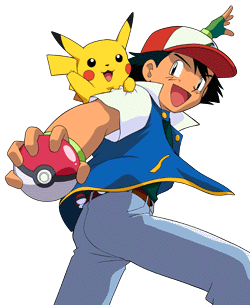 Ash!
Ash's destiny is to be a master pokemon trainer. He likes Pikachu more then any other pokemon. Ash and Misty like to tease Broc whenever he thinks that a women is beautiful. Ash is so eager to furfill his destiny that he wants to catch every pokemon he sees. Ash specializes in ground pokemon.
Misty!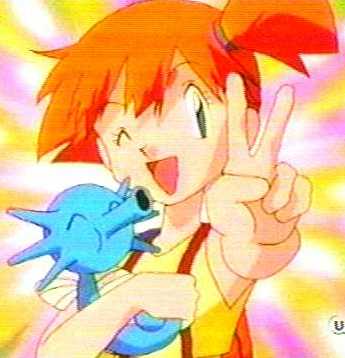 Misty is the female on pokemon or pocket monsters[the japanese name]. Misty's destiny is to be a Pokemon trainer and a Pokemon nurse. Misty speacializes in water pokemon. Misty is Pikachu's Pika pal.
Broc!

Broc is obsessed with 'beautiful' women. Broc's destiny is to be a Pokemon docter. Broc gets mad easily at Misty and Ash when they make fun of him. Broc think's Pikachu is funny and cute. Broc makes pokemon food for sick pokemon.[Seamore likes it too!]
Pikachu!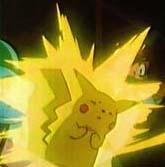 Pikachu is the most well known and famous pokemon in the world. He is very cute. Pikachu likes to zap Ash whenever ash makes him angry. Pikachu evolves to Raichu[he does not evolve in the t.v series]. Pikachu is well known for his cute voice and his funny attude to show off his face. Pikachu can be adopted from P.A.C.Z adoption centre along with all other 149 pokemon!
---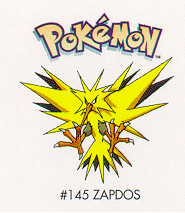 This is my Zapdos, Volt, I got him free at P.A.C.Z. I tell ya this is the best friend I have, so you should adopt one too!
---
Other parts of this site
Click below to go to safari zone adventure maze.

http://pikahouse/maze.com (not done yet)
Pictures!!!